Bright and bold, and just a bit of DIY – April's Collabor88 round has a style all its own, and our new Shipping Crate Studios and Alexi Chase Lounges will make it yours as well!
Our Shipping Crate Studios take an upcycled shipping container – we've included red, blue, green, and unfinished silver metals as well as raw wood – and turn it into a two-room studio with patio, sliding glass door, exterior lighting, stringlights, rooftop garden with included plants, and our *home control system. Worn white painted wood interiors fit almost any decor – but especially the eclectic, one-of-a-kind style you can bring! Only 51 L.I. for versatile use as a tiny home, artist studio, or hideout in the woods or in the city.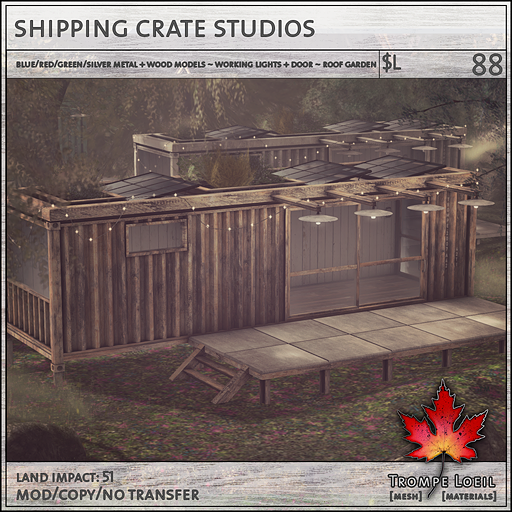 Kick back on our new leather Alexi Chase Lounge in your choice of bright punk-inspired colors and patterns, or fashionable neutrals that fit in anywhere. Both color packs include multiple models (the punk has an extra model with a skull and crossbones pillow), multiple texture options via menu, and your choice of PG or Adult animations. Check out the displays at this month's Collabor88 and make sure to take advantage of these incredible savings!