Nothing says summer like the beach – and what could be better than celebrating true love by the ocean waves? Trompe Loeil's new Driftwood Wedding Set has everything you need to create the perfect event – you supply the water, we even give you the sand!
The centerpiece of the set is the Driftwood Wedding Archway – a gorgeous focal point for your event, it includes 29 animated wedding and static couples poses, perfect for the ceremony and for photos. Multiple models are included, with color-change drape, lights, color change flowers, and foliage. Or, use the branches-only model for a beautiful garden accent!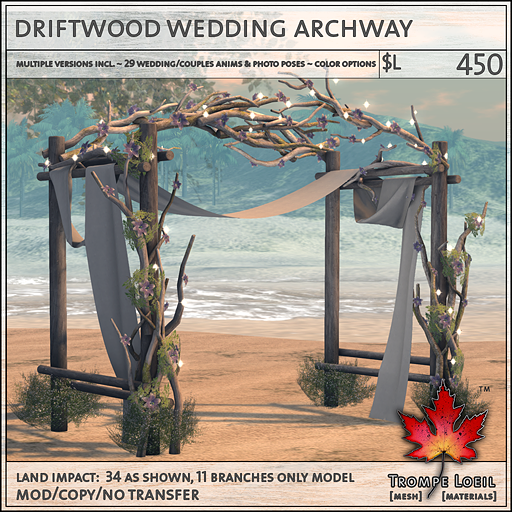 Your guests will be comfy and fashionable in matching Driftwood Chairs. We include plain and three sashed versions (including starfish and flower accents) with texture change options and sash AO map for customizing!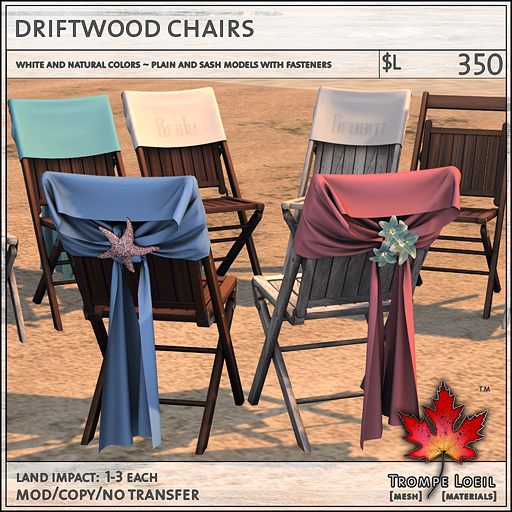 Round out the event with our Driftwood Beach Sign, Driftwood Pathway Light & Planter, and Paper Bag Lights. So fun and customizable, you won't want to come back from the shore!
And of course, the entire pack is available at a discount – great for wedding designers, event organizers, or anyone that wants to make the most of their waterfront location!
Don't feel like going outside? Bring the nautical theme indoors with our Driftwood Bed! Featuring amazing ocean-style prints and two models (with and without seahorse), this is perfect for those that dream about the sea.