Another Collabor88 is upon us! This month grab a new mesh prefab and a fun mesh hanging outdoor bed with 17 singles and couples animations for unbelievable Collabor88 prices!
The Hanging Outdoor Bed features three color-coordinated fabric sets for the pillows via touch menu and 17 singles and couples animated poses. Carefully made for easy tinting of the bed mattress and fabric trim, and the ropes are separate linked objects for easy adjustment of height to fit any area.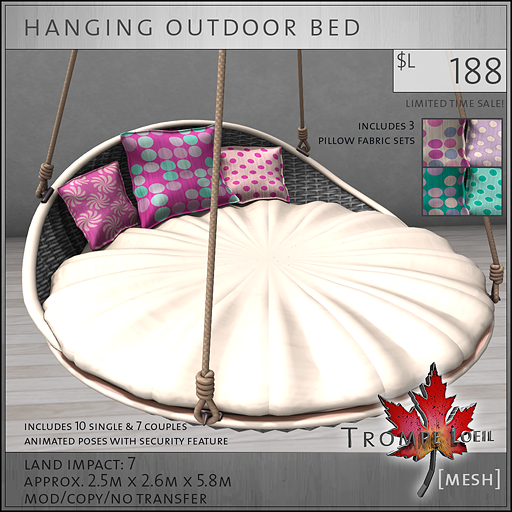 Our brand new prefab, The Treehouse Cottage, is a perfect getaway for kids and adults. Features a full-sized bottom deck and two-story single room structure on top, all built around a majestic tree that includes 8 leaf colors available via owner-only menu – from lush summery green to the reds, oranges and yellows of autumn to several fun fantasy colors you just don't see every day! The Home Control Center lets you add allowed individuals, lock the doors, and set the windows to clear, private or closed. The attic windows swing open and shut on touch and the entire build is only 103 prims! Swing through the full sized demo at Collabor88 and pick it up this month only at an unbelievable price of only $L288!