The first Collabor88 of 2013 is here, and our goal for the new year is to make this the year of the mesh cottage! Each month for Collabor88 be on the lookout for a brand new mesh cottage prefab, and maybe a few furniture extras (if we're lucky)…
Kicking off January, its probably time for that mid-winter beach vacation – and The Newport Beach Cottage is the perfect getaway!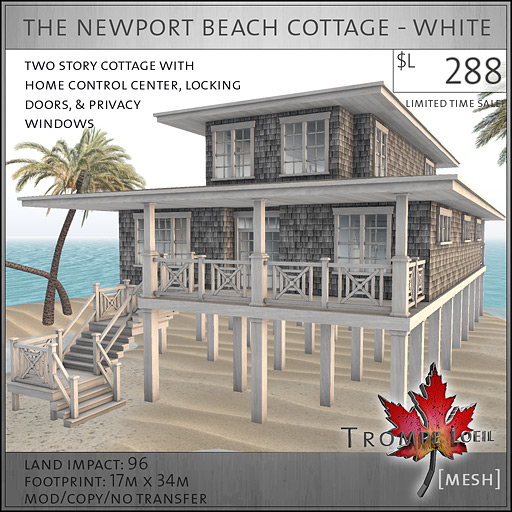 The Newport Beach Cottage sits atop elevated pillars, ready for your lawn, beach, sandbar or even the middle of the water. Front and back porches are reached by quaint staircases with geometric trim.
Welcome! Enter the front door into the kitchen and take in the soft wood floors and ceilings, the mottled white walls, and the white wood trim and windows. The framed seashell print by the door is your Home Control Center – use it to add people to your access list, lock and unlock the doors, and control the window settings all from one location.
Let's check out the living room – its right through this entryway, framed with a lattice echoing the windows found throughout the cottage.
This is a view you won't ever want to leave – floor-to-ceiling, full wall windows run the length of the living room facing out onto the back porch and the ocean beyond. Indulge your favorite seaside daydreams and decorate with nature's beauty as your centerpiece.
The living room also features the double-wide staircase to the second floor and the cozy bedroom. (Or office, or bath…its up to you!)
Tuck away a cozy double bed and your favorite loveseat in this crow's nest, and nod off to the sound of the roaring surf.
The Newport Beach Cottage features per-room controls for the windows (and doors, for the kitchen and living room) – choose from Clear, Private (clear facing out and closed facing in) or Closed for the perfect level of privacy any time.
The Newport Beach Cottage is available in 5 exterior colors and for the month of January, is available at the amazing price of $L288 – only at Collabor88! Come check out the walkthrough display today!