Trompe Loeil is going back to its rustic roots – our latest treehouse is sure to inspire thoughts of autumn bliss! The Trixan Treehouse is a modular-style rustic wood treehouse build with tons of possibilities.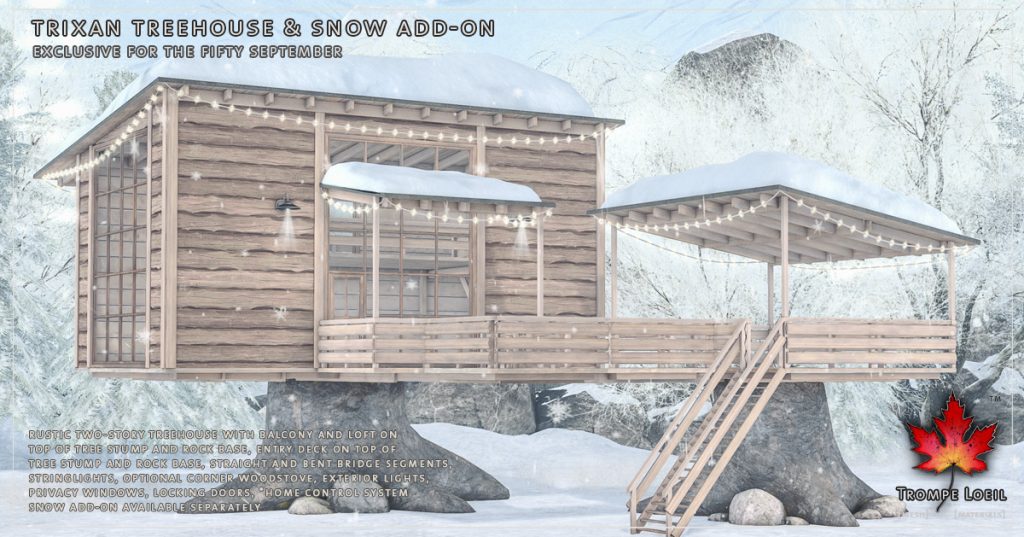 The Trixan Treehouse includes the following pre-built options:
> Full – Corner Build: 128 LI, 24.7 meters by 23.9 meters footprint
> Full – Straight Build: 124 LI, 29.3 meters by 17.3 meters footprint
> Full – Stairs Main: 101 LI, 21.1 meters by 17.3 meters footprint
We also include separate pieces for making your own layouts, and an optional corner woodstove for the Main building!
The Main building and the Entry Deck are positioned on top of gigantic tree stumps with accent rocks for the proper elevated view of a treehouse.
The stringlights are unscripted and always-on, and can be easily removed by using Edit Linked to select and unlink them from the buildings before deleting.
Locking doors, privacy windows, exterior lights, and our *home control system round out the features! Plus, don't forget the matching Snow Add-On (available separately) to create a winter wonderland!
Exclusively for The Fifty's September round!