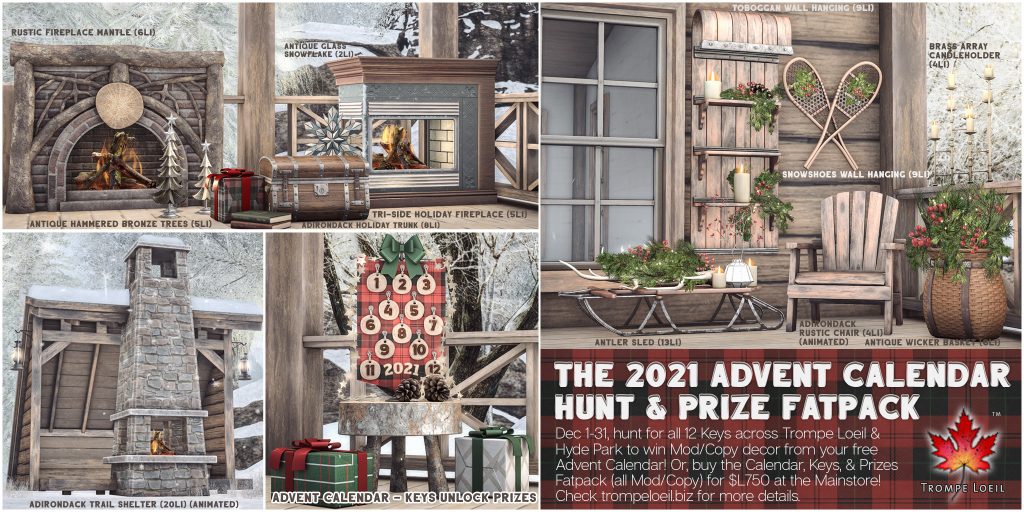 Trompe Loeil's annual Advent Calendar is coming back for 2021! This year, we're trying something a little different – since gachas are a thing of the past, we wanted to keep that sense of fun and interactivity, while still offering the convenience and flexibility of mod/copy Prize fatpacks (like we've issued for previous Advent Calendar years). We'll have two ways for you to get the great decor you wait all year for!
– Want to get right to the good stuff? Purchase the Fatpack – all 12 prizes in Mod/Copy permissions, along with a free Calendar and all 12 Keys (No Transfer permissions) so you can still open each door and be given a prize.
– Get ready to hunt! From Dec 1st through the 31st, search across the Hyde Park and Trompe Loeil regions to find all 12 Gift Boxes hidden away inside our display homes, the Mainstore – check everywhere and anywhere! Use your free Keys to unlock the doors on the free Calendar (available at the Mainstore entry) and get the prize inside for FREE! This is a limited time hunt – only for the month of December – and Keys are non-transferable. Key locations can and will change randomly!
Check out the display inworld at the Mainstore for a sneak preview of this year's Adirondack Mountain themed set. We hope you'll enjoy this new direction and that our Advent Calendar continues to be a part of your inworld holiday!