A loft retreat in all white, with the mountains outside and just a bit of snow – get away for the holidays in Scandanavian style, with Trompe Loeil's new Haldis Skybox, Fireplace, Holiday Tapestry & Floor Lights for Collabor88 December!
The Haldis Skybox is a single room lofted structure crafted in whitewashed shades of metal, wood, and brick. We include with and without a mountainous panoramic sky surround with gently falling snow effect – and both versions feature projection lighting from the windows on-click to add a great realistic lightbeam effect on the floor and walls!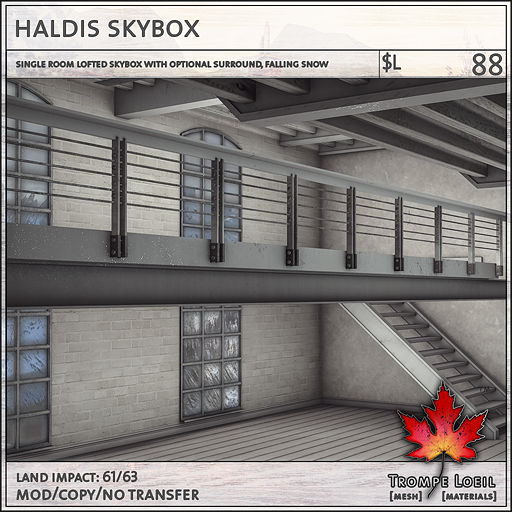 Don't forget the furniture – our Haldis Fireplace includes empty and birch log versions, with optional candleholder and scripted or unscripted candles with a gentle light and glow. Place it on any wall for instant drama! Plus, the Haldis Holiday Tapestry and Floor Lights package includes 12 designs on touch plus AO map for making your own tapestry creations, and always-on ornamental floor lights that make a bold modern statement any time of the year. Check out the on-site demo only at Collabor88's December round!