Global Domination starts February 9th! Prepare to travel the globe in this new grid-wide game that gives you a chance to win fantastic prizes from top designers – read on to see what Trompe Loeil has in store for you intrepid globetrotters!
In order to play, you'll have to pick up a game passport at the Global Domination kiosk at any of the participating stores inworld. Where you get your passport is up to you, but if you get your passport at Trompe Loeil, you'll also get this new exclusive gift – our Rustic Bright Bench with 4 fabulous fabric colors for cushion and pillows available via menu, and 4 animated solo poses for men and women!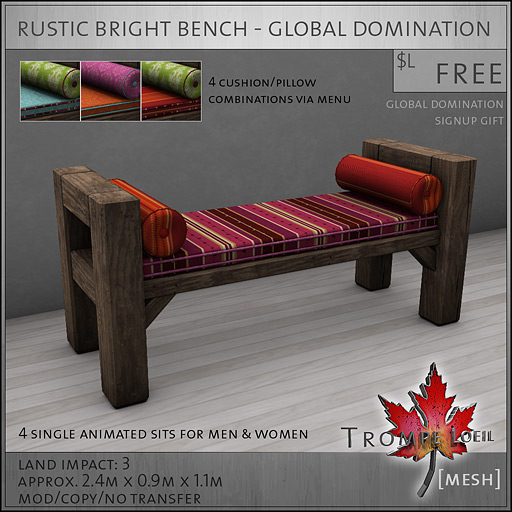 When you complete the game and get access to the prize area, you'll find a new gift from Trompe Loeil among your bounty – our new Kanpur Couch, featuring 4 mattress texture options, 4 pillow texture options, and 19 animated poses for singles, friends and couples!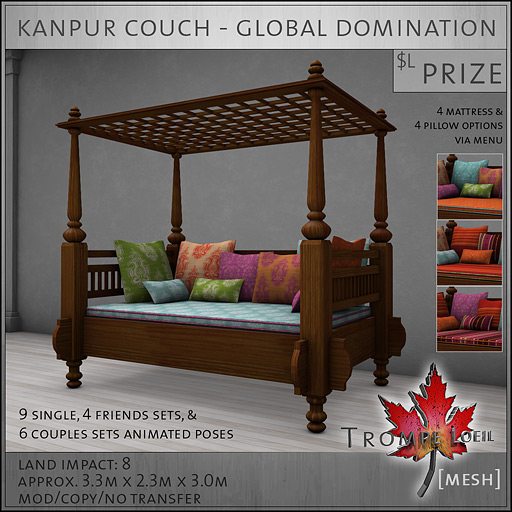 The three grand prize winners get even more amazing stuff, so this is a game you absolutely want to get in on. Get all the information you need on Global Domination at the Global Domination website!