August is the month for sleeping under the stars – and Trompe Loeil has the most unique bed you'll own, ready for those romantic warm summer nights – the Fiona Treebed! Plus, add our matching Fiona Greenhouse and Star Lamps for that vintage look you crave – they're only available at FaMESHed for the last month of summer!
The Fiona Treebed is the kind of unique furniture piece right out of your fantasies – a gnarled tree garnished with delicate cotton cloth and an extra fluffy blanket and pillows, complete with its own gently-lit star lamps hanging from the branches. Green, blue and red trunk leaf versions are included, as well as models with and without branch cloth drapes. 8 fabric pattern options are included for all bedding – or for even more personalization, grab the AO Map pack (sold separately) and make your own custom bedding patterns! Plus, enjoy 62 single and couples animated poses in the PG version plus an additional 28 animated poses in the Adult version! This outdoor bed will be the focal point of your summer fantasy decor.
Complete the look with our Fiona Greenhouse – an adorable vintage-inspired glass structure with worn white wood and gently worn silver detailing. Features working doors you can leave open or shut. A great way to showcase your gardening props and supplies!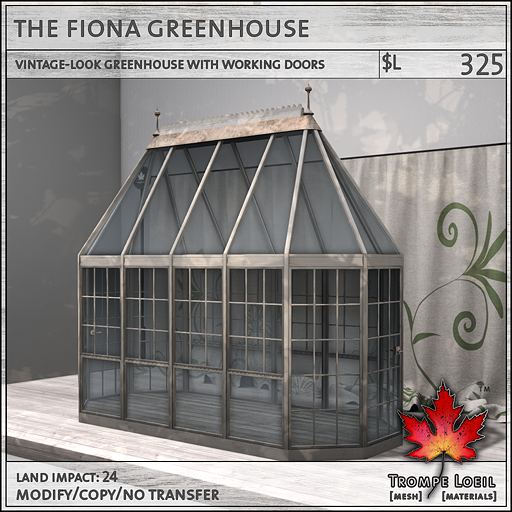 Finally, our Fiona Star Lamps make any space warmer and more enjoyable. We've included three string lengths for easy placement, and each lamp turns on and off on touch.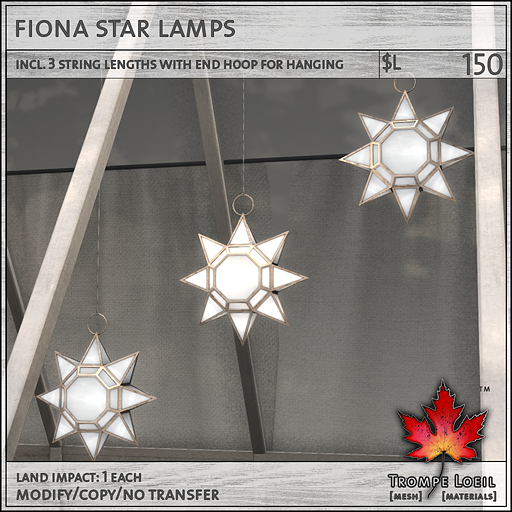 Grab the entire Fiona set exclusively at FaMESHed for the month of August!