Modern style for any location – atop the waves, against a rugged cliffside, on the beach, even as a skybox – the Dawsyn Ranch Cottage exudes sleek style and fun function!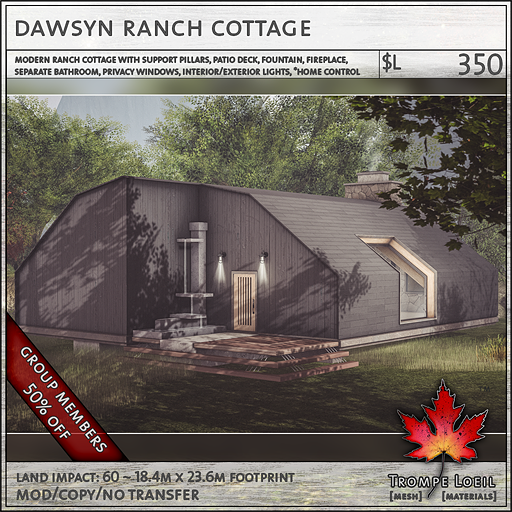 The Dawsyn Ranch Cottage is a single story modern minimalist build with entry patio and stairs that includes built-in decorative waterfall fountain and exterior lighting. Walk into the U-shaped interior layout with cedar planking and flagstone walls, separated by dividing wall with shelves and anchored by a matching flagstone fireplace. We include separate bathroom with tiled floor and closet dividing wall as well, plus interior scripted lights! Privacy windows, locking doors, and our *home control system round out the features. The foundational pillars are perfect for placing anywhere – on the water, on a hillside, on the beach, or even in the air as a self-contained skybox! Plus, the Dawsyn Ranch Cottage is half price for our Superfan group members! Just be sure to right click > pay and choose the lower price with your group tag active.
Pick up the Dawsyn Ranch Cottage at our inworld display today!