Its FaMESHed time! Slip into delicately patterned sheets as the summer heat kicks in – we've created the perfect bedroom set to complement our popular Cobble Hill Living Room collection, with metal nail reinforcements and a classy, urbane, unisex style – the new Cobble Hill Bedroom!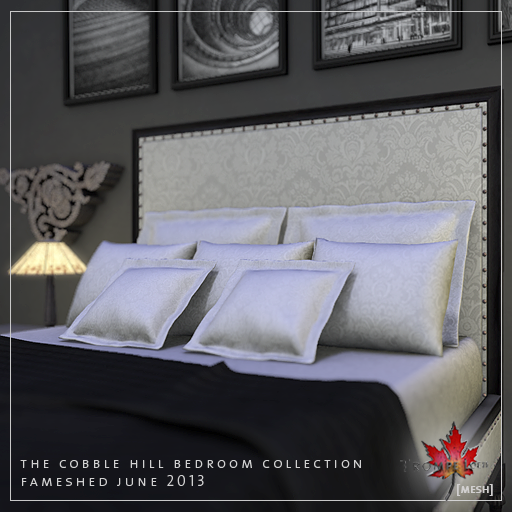 The Cobble Hill Bedroom is designed around a studded-fabric headboard in your choice of five wood colors – black, white, gray, brown, or mahogany. The bed includes 18 headboard panel fabric options, 15 pillow texture options (set for each row of pillows), 10 blanket texture options, and 10 mattress texture options, and is available in PG maturity (33 single and 29 couples animations) or Adult maturity (an additional 3 erotic single and 23 erotic couples animations).
At the foot of your new bed, place the coordinating Cobble Hill Bedroom Bench, available in the matching five wood colors, with 9 single and 4 couples animations, 10 blanket colors, 10 cushion colors, and including two model variants (with or without blanket).
The Cobble Hill Dressers include both a single drawer and three drawer model per wood color pack, and feature working drawers on touch.
Cool off those steamy summer nights with our matching Bistro Fans, available in black, white, gray, brown or mahogany wood, that turn on and off on touch.
Rounding out the collection, we've included Glass Deco lamps that include three color options, three wall art sets that include two pencil sketch packs and an abstract art pack (4 framed images in each pack) and 3D wall ornaments in five finishes for that special accent piece.
And of course, you can get everything shown in your favorite wood color, plus an exclusive Cobble Hill Rug with five option texture change menu, in our Cobble Hill Bedroom Suite packages – save $L495 off of purchasing everything individually!
Try out the PG model in person and see everything we have in store this month at FaMESHed – here's your ride!