A new event, and a fresh space-defining bar to relax at with friends – in any room of your home! Exclusively at Uber, grab our new animated Chalkboard Bar in wall-mount and double stand-alone versions, with all the props, neon bar signs, and seating you need to create a dark, smokey retreat in the den, living room, bedroom, or club!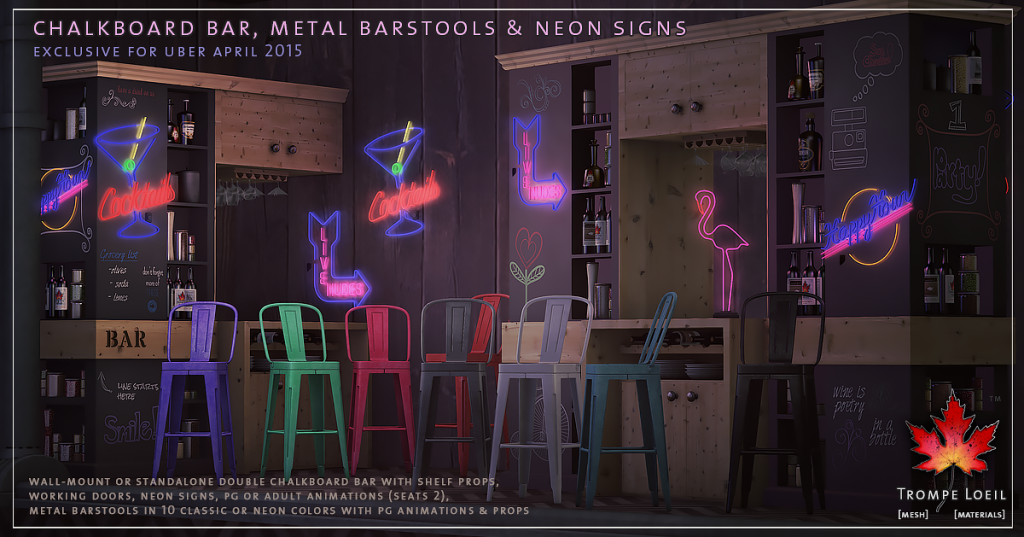 Pick up either the PG or Adult versions of our Chalkboard Bar, and you're getting the whole thing – the wall-mount and double stand-alone versions, both with and without built-in neon bar signs, plus a special flipped version of the double model with animations on the other side for total placement flexibility. Props are included and easily unlinkable if you want to use your own items instead. Seats 2, with PG single and Adult couples animated poses – sit, lean, kick back and relax, or slouch if you've had one too many! We include all 10 colors of the Metal Barstools, with 13 animated poses plus props menu for all the beer you can handle, and extra copies of all the Neon Bar Signs.
Just want the Metal Barstools or the Neon Bar Signs? No problem! They're available separately in Classic and Neon colors.
Don't miss our inaugural round at April's Uber event and our on-site display models!