You may have heard about Cinema, the amazing new shopping festival themed around our favorite movies – well, it opens today and Trompe Loeil has two of our best new products yet debuting exclusively at our space in the XXX theater wing!
First up are our new Canopy Beds, and we are so excited about these! Experience your choice of PG (20 single, 20 couples animations) or Adult (additional 18 couples and 3 singles animations) versions, with two wood types and 8 fabric options to choose from! (Note: these have now been updated to include all Morning Light or Silk texture options available in a single bed!)
Our second new release is a fun low-impact skybox, great for intimate get-togethers or as a photo backdrop – the Peepshow Skybox!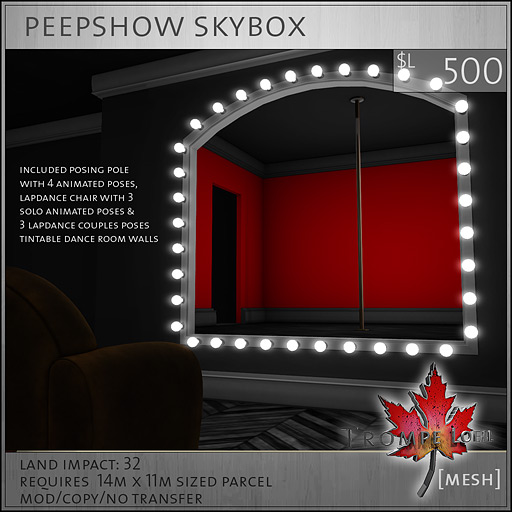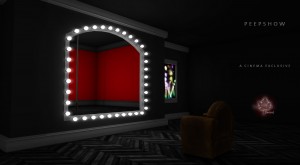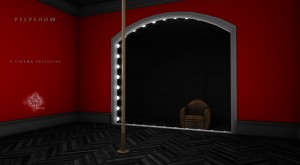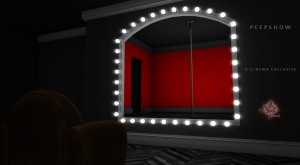 This skybox is designed around the concept of a private show room – the animated chair for the viewer sits in the dark, while the performer poses on the elevated stage. Exit the stage through the back door and then into the viewing room to give a private lapdance! The chair includes 3 solo sitting animated poses and 3 couples lapdance animated poses, and the posing pole includes 4 animated poses. We've included an unscripted dance pole so you can add your own scripts and dance animations if you wish! The red dance room walls are actually tinted – you can re-tint to whatever color you like. To the right of the dance room is a lit poster you can replace with your own promotional images – make it a night to remember!
The Peepshow Skybox has a demo model on display at Cinema – come by and check out both of our newest releases in person!