Happy Holidays everyone! Apologies for the late notice as we were out of town for Thanksgiving, but we made sure that we had plenty of new goodies for you available on the 1st – The Arcade opens its December round with our 2013 Advent Calendar, and FaMESHed features gorgeous holiday Hearths, Trees, and Couches in seasonal fabrics and finishes to make any home festive!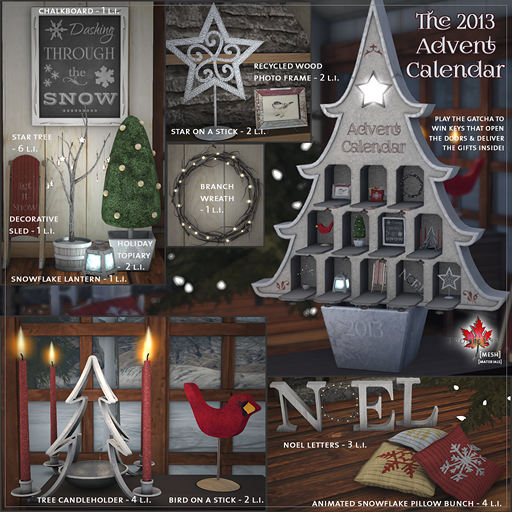 Our popular Advent Calendar is back with all new prizes and board! Grab a free Advent Calendar from the display at The Arcade, and then play the Gatcha machine to win special Keys that light up and open a corresponding door when rezzed by your Calendar – and give you the prize hidden inside! We've worked hard at creating unique, materials-enabled holiday decor items you'll love to place around your home – wreaths, candleholders with working candles, animated pillows for couples, adorable trees, and tons more. The Advent Calendar itself makes a lovely display piece – and the star on top lights when you've opened all twelve doors! Each play is only $L25, and Keys are tradeable if you have not yet used them to open a door on a Calendar.
Please note: the 2013 Advent Calendar and Keys are ONLY available at The Arcade for the month of December – last year's 2012 Calendar and Keys are available at the Trompe Loeil Mainstore, but those will NOT work with the 2013 Calendar and Keys.
Teleport to The Arcade now to get your 2013 Advent Calendar and all 12 Keys!
———————————————————————————————————
Also opening December 1st – FaMESHed has a collection of holiday decor that makes your living room a warm and festive place at a reasonable price. Our Holiday 2013 collection includes wood Hearths in three wood finishes with working fireplace fire, Trees in 6 color options that include exclusive scripted lights in both white and colored, with steady on, blinking and fade effects via menu, and Couches that seat two, with fun seasonal fabrics and pillows, in your choice of PG or Adult maturities. Materials-enabled for the best look, and only available at FaMESHed this December!